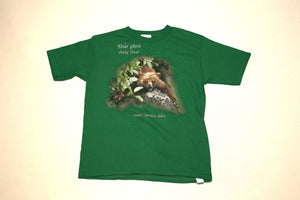 Child T-Shirt - Lazy Bear Green
 This lazy baby bear is laying on a rock. He is so cute just chilling like a villain. On the flip side of the shirt, you can see his bum, tail, and feet!!
Shar Ghra means Baby Bear in Southern Tutchone. The other text on the shirt is our town Haines Junction, Yukon.
This shirt features dän k'è (Southern Tutchone) words which is our First Nations native language.
Overview:
Materials: 100% Cotton
Size: Comes in three different sizes 2T, 4, 6
Care Instructions: Can machine wash warm 40°C or 105°F. Do not bleach. Tumble dry. Iron on cool 110°C or 230°F. *Please Refer To The Tag For Proper Care*
*We have this design on youth size t-shirts as well (3 different sizes)
---
We Also Recommend