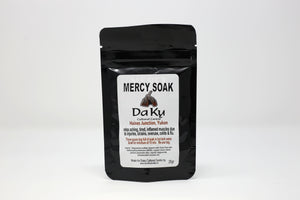 Da Kų Body - Mercy Bath Soak
Mercy MSM lotion helps aid in inflammation, arthritis, muscle spasm, childbirth support, tendonitis, growing pains, labour pains, backache, joint pain, strains & sprains, injuries, headache, restless leg syndrome and the list goes on! 
Mercy MSM is a chemical free lotion the penetrates in minutes of delivering fast, effective relief for hours. MSM is clinically shown to reduce inflammation allowing muscles and joints to heal faster. MSM has shown 82% improvement in muscle relief and 58% increase in recovery of athletic injuries and inflammation. 
What is MSM? methylsulfonylethane or MSM is an organic sulfur. 
Where does it come from? it comes from nature and can be fond in all plants, animals and water. We use OptiMSM ISO 9001:1:2015 reg FSSC220 16 Certification, HACCP and CGMP compliance. It is also the purest MSM in the world, gluten free, allergen free, non GMO vegan, Kosher, Halal certified. 
Recommended Use: Adults 2 tablespoon(s) 1 time(s) per day. Place 2 tablespoons in gauze bag and add to bath and mix the water gently. For maximum benefit, remain in the bath for 10 minutes. Use once for a day, for occasional use only. Not for oral use. 
---
We Also Recommend