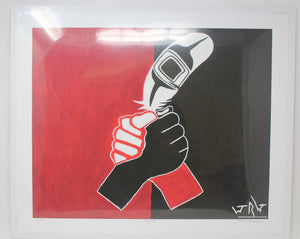 Justin Johnson - 24"X20" Rise up Print
"Rise Up"
My English name is Justin Johnson, my Southern Tutchone/Tlingit name is Gooch Ooxu (Wolf Teeth) I am 16 years old and I am proud to be a Youth of the Champagne and Aishihik/Kluane First Nations, my home town is Dakwakada (Haines Junction, Yukon) I live my life by daily promotion of sharing, awareness, equality. It is my lifelong goal, thus far to be an artist, specializing in my Traditional/Cultural teachings, where most of my inspirations arise. 
This particular piece of artwork I created for the people that preserved residential school. "I made this so the peole can feel safe, I made it so kids can learn, I made it so we can stand up, I made it so people can stand up for themselves and help other rise up, I made it so people  can speak" 
Overview:
Locally Made in Yukon
Size:  24" X 20" 
---
We Also Recommend